Prints & Posters
Handmade selenium toned prints and special edition prints are for sale in the gallery. If you're interested in purchasing a fine art photography print, scroll to the bottom of the gallery page and click on "purchase photo" for more info.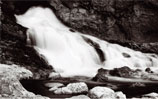 This black and white poster highlights a cascade of water located at the bottom of the Natural Bridge, Montana.. The poster is 32" x 20" and is available at various art print stores.
Info
Jay Wesler is a fine art photographer who specializes in black and white western landscape and nostalgic cityscape photography. Images include scenic landscape photography with photographs from Montana, Illinois, Utah, Wyoming, National Parks, and the west.
The pictures have been represented in numerous fine art publications and galleries for black and white photography. Many of the pictures follow a minimalist style, with high contrast printing and zone system techniques.